Zion Market Research has published a new report titled "High Voltage Switchgear Market By Type (Air Insulated, Gas Insulated, and Others),By Component (Circuit Breaker, Relays, Measuring Instruments, Transformers, and Others),and By Application (Power Generation, Transmission & Distribution, Infrastructure Development, and Others): Global Industry Perspective, Comprehensive Analysis, and Forecast, 2018–2024". According to the report, the global high voltage switchgear market was valued at approximately USD 11.47 billion in 2017 and is expected to reach approximately USD 16.66 billion by 2024, growing at a CAGR of around 5.48% between 2018 and 2024.
High voltage switchgear is an essential part of power systems, i.e., from power generation to distribution and transmission. The primary work of switchgear is to switch off the electric circuit and equipment in a power system during emergencies and faults. Circuit breaker, current transformer, protection relay, measuring instrument, voltage transformer, surge arrestor, miniature circuit breaker, electrical isolator, and other connected equipment are the components of s switchgear. 
Request Free Sample Report @ https://goo.gl/18g9ki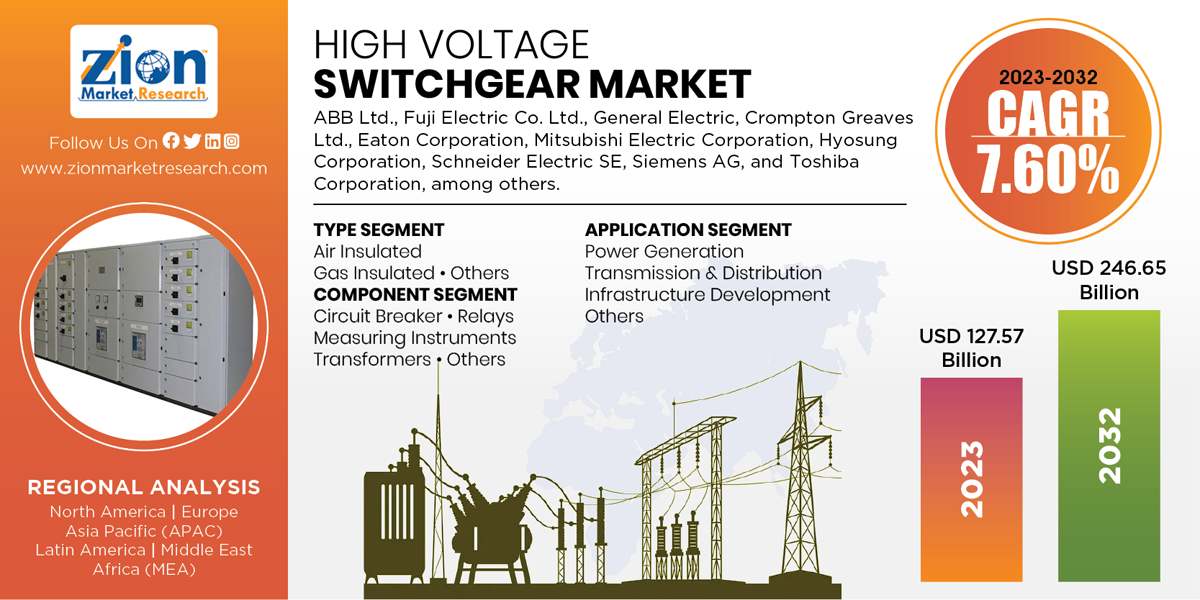 The power transmission and distribution losses account for more than 8% of the generated electricity, globally. Therefore, growing necessity to reduce the distribution and transmission losses in the electric power systems is expected to drive the global high voltage switchgear market across the globe. High voltage switchgear increases the efficiency of power system components and reduces the distribution and transmission of power loss. Increasing adoption of smart grid technology by various countries and a growing focus on renovation and expansion of distribution and transmission network are further projected to boost the demand for high voltage switchgear in the upcoming years. Moreover, rising initiatives of adopting renewable energy sources both by developed and developing countries are among the major factors contributing toward the development of the high voltage switchgear market globally. However, high installation costs might restrain the expansion of the global high voltage switchgear market. 
Browse Full Report TOC (Table of Contents) here https://goo.gl/Tt4qTC
The high voltage switchgear market is classified based on type, component, and application. By type, the global high voltage switchgear market is divided into air insulated, gas insulated, and others. By component, this market is divided into a circuit breaker, relays, measuring instruments, transformers, and others. By application, this market includes power generation, transmission and distribution, infrastructure development, and others.
By region, the global high voltage switchgear market includes North America, Europe, Asia Pacific, Latin America, and the Middle East and Africa. North America is projected to hold the largest share in the high voltage switchgear market, due to the presence of local utilities that own the electricity distribution networks. Several power grid agencies in the U.S., Canada, and a part of Mexico power their grids by purchasing electricity from local power-generating utilities and other independent power producers. This process consumes a large amount of power distribution and transmission on a daily basis. This, in turn, is driving the development of the high voltage switchgear demand in North America.
The key players profiled in the global high voltage switchgear market report are ABB Ltd., Fuji Electric Co. Ltd., Eaton Corporation, Mitsubishi Electric Corporation, Crompton Greaves Ltd., Hyosung Corporation, Siemens AG, Schneider Electric SE, Toshiba Corporation, and General Electric, among others.
Browse Detail Report for More Information: https://goo.gl/3pjgiw
This report segments the high voltage switchgear market as follows:
Global High Voltage Switchgear Market: Type Segment Analysis
Air Insulated
Gas Insulated
Others
Global High Voltage Switchgear Market: Component Segment Analysis
Circuit Breaker
Relays
Measuring Instruments
Transformers
Others
Global High Voltage Switchgear Market: Application Segment Analysis
Power Generation
Transmission & Distribution
Infrastructure Development
Others
Global High Voltage Switchgear Market: Regional Segment Analysis
North America
Europe
Asia Pacific
Latin America
The Middle East and Africa