Zion Market Research has published a new report titled "Real-Time Locating System (RTLS) Market By Component (Hardware and Software), By Locating Architecture (Wi-Fi, Ultra-Wideband (UWB), RFID, Bluetooth (BLE), ZigBee, Ultrasound, and Others), By Application (Supply Chain Management, Staff Locating & Monitoring, Asset Tracking & Management, Visualization & Mapping, Workflow & Process Automation, and Others), and By End-User (Manufacturing, Transportation & Logistics, Healthcare, Retail, Defense, Sports & Entertainment, and Others): Global Industry Perspective, Comprehensive Analysis,and Forecast, 2017–2024". According to the report, the global real-time locating system (RTLS) market was valued at approximately USD 2.37 billion in 2017 and is expected to reach approximately USD 11.81 billion by 2024, at a CAGR of around 25.80% between 2018 and 2024.
Download Free PDF Research Report Brochure @https://goo.gl/aWm8Tw
Real-time locating system (RTLS) is a technology that uses electronic systems to trace things or people by means of small electronic devices implanted objects. Locating technologies consist of radio frequency (RF), ultrasound, Wi-Fi, infrared (IR), and Bluetooth low energy (BLE). Several RTLS providers use technologies that are based on the granularity of data needed for the application. Ultrasound provides the maximum granularity from room to bay level accuracy and reliability. The real-time location systems are used in manufacturing, smart warehouses, healthcare, and education, among other industries to maximize the efficiency of workflow and control inventory and assets.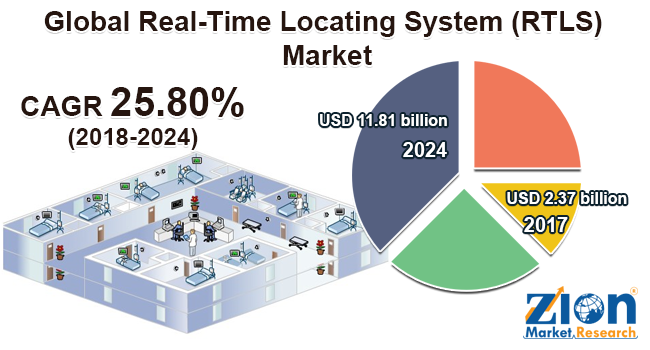 The growing use of location-based services (LBS) in the sports sector is anticipated to drive the real-time locating system (RTLS) market globally. LBS use advanced real-time location system in sports to track kinetic performance and high rate motion of players to provide real-time performance assessment. The information and visual graphics are recorded to enhance the game experience and provide a detailed statistical analysis of player performance. Increasing necessity to enhance operational efficiency is another major factor contributing to the development of real-time locating system (RTLS) market globally. Real-time locating systems improve the operational efficiency and optimize the workflow by locating and analyzing real-time information recorded by sensors and active tags. However, the high maintenance costs of connected systems might hinder the global real-time locating system (RTLS) market. Nonetheless, advancements made in the internet of things (IoT) and modern network topologies are likely to gain traction in the global real-time locating system (RTLS) market.
The real-time locating system (RTLS)market is segmented on the basis of the component, locating architecture, application, and end-user. By component, this market is bifurcated into hardware and software. The locating architecture segment includes Wi-Fi, RFID, ultra-wideband (UWB), Bluetooth (BLE), ultrasound, ZigBee, and others. The ultra-wideband (UWB) technology segment is anticipated to substantially grow in the upcoming years. The ability to locate a large number of objects within a wider area of range and decreasing prices of UWB tags are the major factors contributing toward the growth of the global real-time locating system (RTLS) market across the globe. By application, the real-time locating system (RTLS) market includes asset tracking and management, supply chain management, staff locating and monitoring, workflow and process automation, visualization and mapping, and others. Healthcare, retail, manufacturing, transportation and logistics, defense, sports and entertainment, and others are the major end-users of the real-time locating system (RTLS)market.
Geographically, the market is segmented into different regions—Latin America, North America, Europe, Asia Pacific, and the Middle East and Africa. North America is projected to hold the largest share of the real-time locating system (RTLS)market, due to the increasing adoption of RTLS systems in the manufacturing sector. The increasing popularity of connected factories in the U.S. has boosted the demand for RFID and RTLS systems in North America. 
Request Free Sample Report @https://goo.gl/BLsszg
The key players profiled in the global real-time locating system market are Stanley Healthcare, Aruba Networks (HP Enterprise), Impinj, Zebra Technologies, Teletracking Technologies, Ubisense Group, Savi Technology, Airista, Awarepoint, Alien Technology, and Identec Group, among others.
This report segments the real-time locating system (RTLS) market as:
Global Real-Time Locating System (RTLS) Market: Component Segment Analysis
Global Real-Time Locating System (RTLS) Market: Locating ArchitectureSegment Analysis
Wi-Fi
RFID
Ultra-Wideband (UWB)
Bluetooth (BLE)
Ultrasound
ZigBee
Others
Global Real-Time Locating System (RTLS) Market: Application Segment Analysis
Asset Tracking & Management
Supply Chain Management
Staff Locating & Monitoring
Workflow & Process Automation
Visualization & Mapping
Others
Global Real-Time Locating System (RTLS) Market: End-UserSegment Analysis
Healthcare
Retail
Manufacturing
Transportation & Logistics
Defense
Sports & Entertainment
Others
Inquiry more about this report @https://goo.gl/6CQHMY
Global Real-Time Locating System (RTLS) Market: Regional Segment Analysis
North America
Europe
Asia Pacific
Latin America
The Middle East and Africa