Zion Market Research has published a new report titled "Blockchain Technology in Healthcare Market by Application (Clinical Data Exchange & Interoperability, Supply Chain Management, and Claims Settlement & Billing) and End User (Healthcare Payers, Pharmaceutical Companies, and Healthcare Providers): Global Industry Perspective, Comprehensive Analysis and Forecast, 2017 – 2024". According to the report, global blockchain technology in healthcare market was valued at approximately USD 34.47 million in 2017 and is expected to generate revenue of around USD 1415.59 million by end of 2024, growing at a CAGR of around 70.45% between 2018 and 2024.
Download Free PDF Research Report Brochure @https://goo.gl/kRrXox
Blockchain is a digital, public ledger of transactions comprising of a list of blocks (records) that can be viewed by everyone. Blockchain is a type of distributed ledger that uses nodes (independent computers) to document, share, and integrate transactions into their specific electronic ledgers. The data is organized into blocks that are tied up. Blockchain database is never stored in a single location; the data is accessible to everyone on the internet.R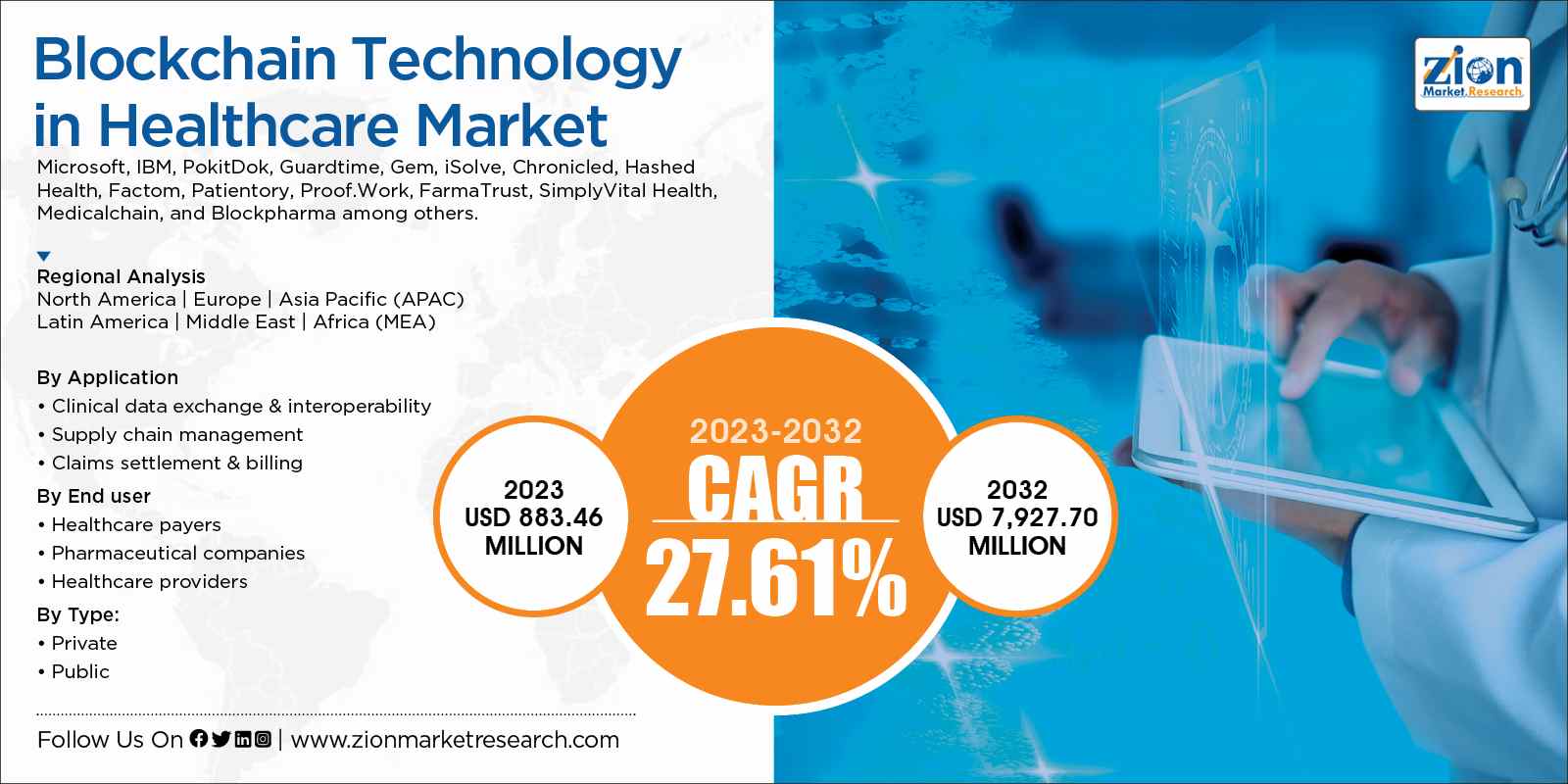 The most important application of blockchain technology in healthcare is in the management of health data. The security and interoperability of health data can be improved exceptionally by using blockchain technology in healthcare. There is a growing demand for integrated healthcare services along with need for information technology based system to manage data. Blockchain technology can be a great solution to all these issues affecting the healthcare industry. Blockchain technology can decentralize the data storage and enable data sharing without any deterrence. The shared data can make it possible for doctors to access real-time information. The data from wearables can also be integrated into medical records using blockchain technology.
Blockchain technology also has applications in drug development. The technology can make patient data easily accessible and put brakes on counterfeit drug indications. Blockchain technology can also minimize the frauds related to claims and billing. In medical research, blockchain technology can help in integrating the results obtained through clinical trials.
The distributed blockchain was originally developed to act as a public transaction ledger of bitcoin. The initial work on cryptographically secured block chains was illustrated by W. Scott Stornetta and Stuart Haber in 1991. Their aim was to make it impossible to tamper with documents' timestamps by executing an infallible system. Initially, blockchain technology was limited to manage bitcoin however as the concept behind blockchain technology became popular, people started exploring other applications of the technology. Post-2014, there was a sudden rise in investment to explore the application of blockchain technology in healthcare, transportation, insurance, supply chains, voting and many more.
Aspects like increasing cases of a medical data breach, growing number of fraudulent drugs and medicines, rising investment in blockchain technology startups working in healthcare sector will push the growth of global blockchain technology in healthcare market. Other factors like growing adoption of blockchain as a service (BaaS) solutions and government initiatives in implementing blockchain technology in healthcare are expected to drive the blockchain technology in healthcare market growth. The growing use of Internet of Things (IoT) in healthcare will act as a major opportunity for the companies working in the blockchain technology in healthcare market. However, factors like absence of pivotal entity and universal standards, paucity of awareness and knowledge of blockchain technology will restrain the growth of blockchain technology in healthcare market.
The global blockchain technology in healthcare market has been segmented into the application, end user, and region. The application segment has been segmented into clinical data exchange & interoperability, supply chain management, and claims settlement & billing. Supply chain management segment holds the maximum share of the application segment. Based on the end user, blockchain technology in healthcare market has been segmented into healthcare payers, pharmaceutical companies, and healthcare providers.
North America, Asia Pacific, Europe, the Middle East & Africa, and Latin America are key regional segments of global blockchain technology in healthcare market. North America is anticipated to remain the leading region over the forecast period followed by Europe. The Asia Pacific is expected to be the highest growing region in blockchain technology in healthcare market during the forecast period. Moreover, the Middle East & Africa and Latin America are also expected to show moderate growth for this market in the years to come.
Request Free Sample Report @https://goo.gl/Bz9PtB
Some of the key players in the blockchain technology in healthcare market include Microsoft, IBM, PokitDok, Guardtime, Gem, iSolve, Chronicled, Hashed Health, Factom, Patientory, Proof.Work, FarmaTrust, SimplyVital Health, Medicalchain, and Blockpharma, among others.
This report segments the global blockchain technology in healthcare market as follows:
Global Blockchain Technology in Healthcare Market: By Application
Clinical Data Exchange & Interoperability
Supply Chain Management
Claims Settlement & Billing
Global Blockchain Technology in Healthcare Market: By End User
Healthcare Payers
Pharmaceutical Companies
Healthcare Providers
Inquiry more about this report @https://goo.gl/uFyL7L
Global Blockchain Technology in Healthcare Market: By Region
North America
Europe
Asia Pacific
Latin America
The Middle East and Africa