Zion Market Research has published a new report titled "Healthcare IT Consulting Market by Type (Application Analysis, Design & Development, Strategy & Project Management, Change Management, Security & Risk Assessment, Integration & Migration, Production Live Support, Regulatory Compliance, Business Process Management, and Other Consulting Services) and by End User (Healthcare Providers, Healthcare Payers, and Others): Global Industry Perspective, Comprehensive Analysis and Forecast, 2017 – 2024". According to the report, global healthcare IT consulting market was valued at approximately USD 18.6 billion in 2017 and is expected to generate revenue of around USD 67.7 billion by end of 2024, growing at a CAGR of around 19.6% between 2018 and 2024.
Download Free PDF Research Report Brochure @https://goo.gl/4mf9Ab
Increasing dependability of the healthcare industry on the digital platform along with trends of electronic record maintenance as it allows easy accessibility of data from various platforms in real time is estimated to accelerate the growth of the healthcare IT consulting market over the estimated time.
Healthcare IT consulting market is mainly driven by the growing prevalence of electronic healthcare information exchange in the global market. This prevalence is mainly driven by the large patient pool all across the globe which is growing at a constant pace and making it impossible to maintain handwritten records. Furthermore, enhancement in the features of the healthcare IT consulting services has made it more prominent among the consumers. All these factors are anticipated to drive the healthcare IT consulting market over the forecast period. However, the lack of trained professionals in healthcare IT consulting market is acting as a restraint for the market and may affect its growth in the long term. Nonetheless, the growing requirement for data security coupled with prominent investment by the government and ruling authorities in healthcare IT consulting market across the globe are likely to disclose new platforms in the near future.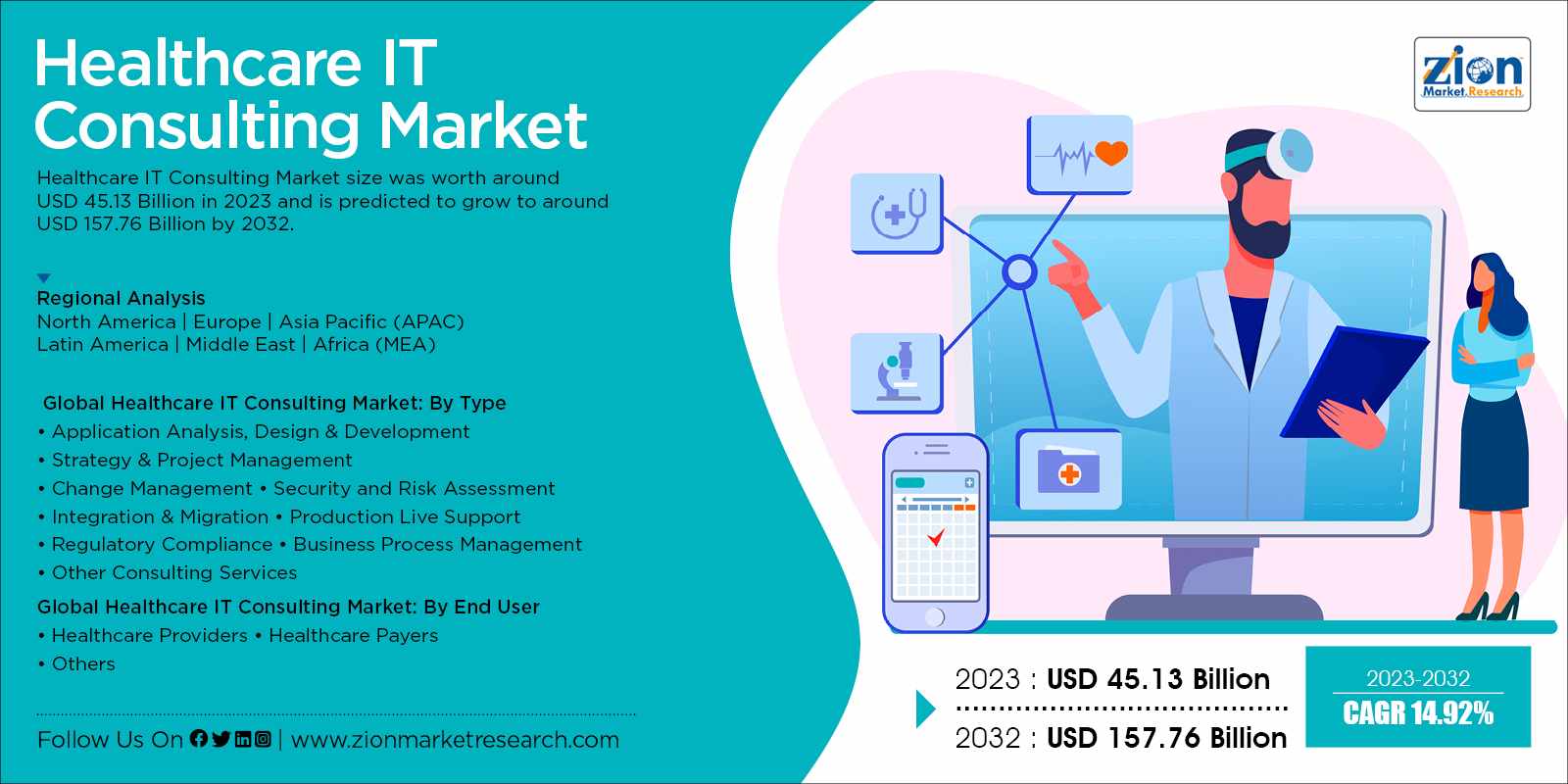 The healthcare IT consulting market is divided on the basis of the type as design & development, application analysis, strategy & project management, change management, security, and risk assessment, integration & migration, production live support, regulatory compliance, business process management, and other consulting services. By type segment, design & development is estimated to cover prominent market value share as it is a significant tool which is required for developing, designing and implementation of all IT solutions.
Based on the end user, healthcare IT consulting is segmented into healthcare providers, healthcare payers, and others. By end user segment, healthcare providers are covering the large market value share, which is attributed to the growing adoption of electronic record maintenance along with the integration of the hospital to provide more prominent services to the patient base.
North America, Latin America, Europe, Asia Pacific, and the Middle East & Africa are the primary regional segments of the global healthcare IT consulting market. North America is expected to remain the significant region covering the large market value share over the forecast period in the healthcare IT consulting market. North America witnesses the prominent demand for healthcare IT consulting services especially in the U.S. North America is anticipated to be followed by Europe. Moreover, Asia Pacific is expected to be the significantly growing region for healthcare IT consulting market during the forecast period. Moreover, the Middle East & Africa and Latin America are also estimated to show low to moderate market growth in the years to come.
Request Free Sample Report Healthcare IT Consulting Market @ https://goo.gl/4mf9Ab

Some of the key players in healthcare IT consulting market include among Deloitte Touche Tohmatsu Limited, Cerner Corporation, Cognizant Technology Solutions Corporation, Cisco Systems Inc., Cerner Corporation, Atos Se, Allscripts Healthcare Solutions Inc., Accenture Plc., HCL Technologies Limited, Genpact Limited, General Electric Company, Epic Systems Corporation, Microsoft Corporation, Mckesson Corporation, Larsen & Toubro Limited, Koninklijke Philips N.V., Infosys Ltd., Infor Inc., IBM Corporation, Hexaware Technologies Ltd., and others.
This report segments the global healthcare IT consulting market as follows:
Global Healthcare IT Consulting Market: By Type
Application Analysis, Design & Development
Strategy & Project Management
Change Management
Security & Risk Assessment
Integration and Migration
Production Live Support
Regulatory Compliance
Business Process Management
Other Consulting Services
Global Healthcare IT Consulting Market: By End User
Healthcare Providers

Ambulatory Care Centers
Hospitals, Physician Groups, & Integrated Delivery Networks
Diagnostic and Imaging Centers
Home Healthcare Agencies, Nursing Homes & Assisted Living Facilities
Other Healthcare Providers

 Healthcare Payers 

Public Payers
Private Payers 

Others
Inquiry more about this report @ https://goo.gl/kuETg4

Global Healthcare IT Consulting Market: By Region
North America
Europe
Asia Pacific
Latin America
The Middle East and Africa